The Thanos Car is a variant of the Ford F-150 that was added on September 21, 2018, as one of two limited edition free vehicles, alongside the Lotus Exige 360 Cup. It was available for sale between September 21, 2018; and September 28, 2018.
Description 
Edit
It was made to look similar to a meme vehicle, complete with a one-off horn. This vehicle is on the citizen team and was a limited edition vehicle- being sold for only one week. However, it only comes in a purple color, and cannot be repainted, coming with a tall bumper instead of grille guards. It shares its top speed with the normal Ford F-150. To accommodate for the over-sized bumper, the Thanos Car has a suspension lift.
The Thanos car was based off a heavily modified, purple pickup with a large, black front bumper.In real life, it was named the 'Thanos Car' mainly because of the ribbed front bumper, which resembles Thanos' ribbed chin, but also from the purple color.
The Thanos Car shares the same stats as the F-150,with only 4 differences: The paint, the bumper, the horn, and the slightly adjusted suspension. 
The truck is able to run at a top speed of 105 mph (169 km/h) and has an AWD drive train. It also returns $465 per mile in revenue, making it an alternative to the Ford Crown Victoria.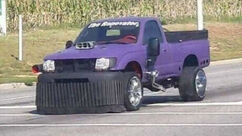 The Thanos Car has a meme horn that says a phrase and plays a music clip when the "G" key is pressed. It's a line from Avengers: Infinity War, and its an audio clip of Thanos saying 'Dread it. Run from it. Destiny still arrives.'
Some clear differences between itself and the real Thanos car is that the wheels and tires are normal ones like on the F-150, rather than completely modified.
The real-life version of the Thanos Car is a 1999 Toyota Tacoma, belonging to a renovating company, judging from the name 'THE RENOVATOR' printed across the top of the windshield.
Community content is available under
CC-BY-SA
unless otherwise noted.