The UD Timeline Project is designed to chronicle the history of Ultimate Driving, which has existed for almost 10 years. With most players joining in the current series, it is designed to help us here at the unofficial UD Fan Wikia chronicle classic games, the legacy series along with maps past and present.
History of Ultimate Driving
Edit
In 2011, TwentyTwoPilots started creating his own games, where you could simply spawn a vehicle and drive around a map. This started with the original Ultimate Driving I, then to the II, III and IV maps, whcih added a blend of small towns with one major city. These maps took advantage of ROBLOX's Universe system, which allowed people to teleport between games by driving or walking to the game border, then simply answering a teleport prompt to change maps.
Back in 2014, TwentyTwoPilots created a new game setting Ultimate Driving II on islands, where you could drive with your vehicles and such,and thus, UD: Westover Islands was created, the first game of Ultimate Driving's current series. As the years passed, he needed more help on his games, so he hired developers. The next game to be released was UD: Odessa in 2015, and the first version of UD: Newark was released in Christmas of the same year. A little over a year later, UD: Delancy Gorge was released in December of 2016, as well as UD: Currituck. At that time, all vehicles were brick and had simple names.
Prior to 2018, Ultimate Driving was just about driving and jobs related it, where one could simply buy a car and visit the maps that were open. It was also a more realistic time, with most vehicles not able to travel at ludicrously high speeds and most vehicles were common, everyday models you would see on the streets like in real life.
Ultimate Driving would see huge updates in 2018, where all the vehicles would be completely overhauled with smooth mesh models rather than block ones. The Westover Islands and Odessa maps would also be expanded, and Racing would be introduced. However, with the racing update, UD was more characterized by expensive sports cars. The thumbnails also showed the change- prior to 2018, most vehicles on game icons were lower end models while today, most icons show a high end sports car.
In November 2018, UD: Monroe would be released as well. In 2019, The Police Team was overhauled, and many, many new vehicles were added. In 2020,the most important change was the addition of Victory Road- which further emphasized the use of sports cars in game and allowed for legal racing. This change made street racing, which was once "legal" prior to Victory Road illegal, as in real life.
Into the future, players hope to see version 4 come out and the possibility of more maps to be released. With multiple maps currently in development, who knows what's next for Ultimate Driving?
Former Developers
Edit
The U.D.U (Ultimate Driving Universe) was larger than it is today (and was planned to be across at least 50 games),the reason why it did is because there were more developers. It stretched further to the north, west and south than it does today; with entire sections being removed due to developers resigning or retiring.
Under UD rules and United States trademark/copyright laws, retired developers have to take down their games as they are no longer affiliated with Ultimate Driving; however, they can be re released as non affiliated maps or rehosted.
More details about the other Retired U.D.U devs are found in their articles and in the category of Ultimate Driving Universe Developers.
xxdebilexx
Edit
Main Article: Xxdebilexx
Xxdebilexx was a former developer that was to make upstate New York and a few Canadian provinces. While he did have a successful release (UD: Noyan), he resigned in November 2018. This led to the entire universe being completely within the United States.
Most of xxdebilexx's former UDU maps are playable as unofficial single player maps, without the UD equipment. The move was to make the maps playable again but not to infringe on copyright laws.
BullRusterXxl15
Edit
Main Article: BullRusterXxl15
He is famous for making Pleasant Valley for the Ultimate Driving Universe. He created games in Iowa, South Dakota and Texas.On July 14, 2018 he announced that he officially retired from the UDU (Ultimate Driving Universe).The reason why was because of his not very good treatment he received in the UD Community. Following his retirement, the entire playable area was east of the Great Lakes.
Although Bull did not have any released games in South Dakota and Texas while in Ultimate Driving, he will be remembered for bringing the Midwest's only UDU full release. Bull now works with Hydrolocks's Infiniroads projects although he has no known maps under this title.
Hydrolock
Edit
Main Article: Hydrolock
He is famous for making the Florida and Alabama part of the U.D.U Universe,creating Sunshine City, which was later renamed Hillsborough. Like other developers, he resigned because the community was getting worse. He also made Infiniroads, not affiliated with UD in any way.
Mochapathy
Edit
Main Article: Mochapathy
Mochapathy was originally making games in Virginia although he never had a full release. He resigned sometime between late 2018 and mid-2019 and did it more discretely. People speculated that he had retired due to poor Internet connection and had moved on from Roblox altogether.
Yignificentx
Edit
Main Article: Yignificentx
Yignificentx was the other Midwest developer, who was making Illinois and Indiana maps which only got to the development and beta stage. He has planned to join Infiniroads after he renamed UD: Arlington as IR: Northern Illinois, although he is not associated with that group at the time of editing.
Active Developers
Edit
This list includes the developers that still remain in the U.D.U community,still making games or just not retired from the UDU.
TwentyTwoPilots
Edit
Main Article: TwentyTwoPilots
Most UDU players would know TwentyTwoPilots, who owns Ultimate Driving and also runs most of the well-known titles (UD: Westover Islands; UD: Odessa; UD: Newark; UD: Delancy Gorge). He is also responsible for the majority of the Universe's successes, including getting the popularity to where it is today. Most of the vehicles are made by him, as well as most of the GUIs and mini maps.
Currently, TTP is working on completing the UD: Newark revamp and getting it up to 2020 standards, as it closed in April 2018. He also plans to release further updates including the HUB update (similar to the old Universe system), which will allow players to travel between games once they reach a map border.
Main Article: Index15
index15 has made the games Currituck and Monroe, Monroe being the 2nd largest city in all of the current UDU, behind the Old Newark (and Harriston), as TwentyTwoPilots says that he will decrease Newark's size to make it the 2nd largest city, while making Monroe the largest city (for now).Index is currently working on UD: Fontana Dam and UD: Kent Island, which are still under development. He had also planned to release Hilton Head Island (closed) and French Broad (still a work in progress).
Following Bull's departure and due to popular demand, index15 also rehosted UD: Pleasant Valley, which was playable until the Victory Road update.
MarcusDOT
Edit
Main Article: Marcus_DOT
MarcusDOT is currently making UD: Jonesboro. He had originally planned to make Savannah and Atlanta, which were shelved. He is one of the least known developers in the UDU.
Repujaketion
Edit
Main Article: Repujaketion
Repujaketion (formerly JakeFromRoblox) is the current director for the Ultimate Driving Universe. He is also building the New England area and UD: New Charlestown (which is based on Boston, Massachusetts).
UD "Classics"
Edit
The Classic Games are the games that are from the legacy series or non released games that allow you to experience what some of the maps could have looked like.
Current Series
Edit
UD CLASSIC: Odessa V1
Edit
This game was the first version of Odessa TTP made, but was cancelled and never released due to development complications. Here is the link to the game: https://web.roblox.com/games/265987535/UD-CLASSIC-Odessa-v1
UD Classic: Odessa V2
Edit
This game was the 2nd version of Odessa built by TTP and the first version of Odessa to be released, the layout is fairly similar to the current version of Odessa. Here is the link: https://web.roblox.com/games/588676394/UD-CLASSIC-Odessa-v2?refPageId=2edf716a-115a-4a7c-ac1b-d210db2897db
UD Classic: Delancy Gorge V1
Edit
This was the first version of Delancy Gorge, which was never released. The layout is very different to the current version of Delancy Gorge. Here is the link: https://web.roblox.com/games/588980844/UD-CLASSIC-Delancy-Gorge-v1?refPageId=17721de1-cf5f-48bd-8e3c-ea1e1e3351c8
Legacy Series
Edit
Note: All legacy games are heavily out of date and most are broken, as they have not been updated since 2014.
Ultimate Driving V1
Edit
The original Ultimate Driving map was made in 2011, based on a major city (which was likely New York).This map used very basic models and had roads with no painted lines. Like Ultimate Driving I, buildings were also made out of blocks except for an apartment building and a gas station. Prior to the current series, this game was known as UD I Classic.
Ultimate Driving I Classic
Edit
This might be the first "real" Ultimate Driving game,with buildings just made out with blocks that were just sized to certain heights and was updated from the original Ultimate Driving map. The game will never be updated to current standards,as in the game description. UD I will most likely be used as the base for Harriston, an upcoming game that has been delayed since 2014.
Here is the link: https://www.roblox.com/games/3415095/Ultimate-Driving-I-CLASSIC
Ultimate Driving II Classic
Edit
This was the base for the current Odessa map. Unlike in the current map, Odessa and Bordenville were called Westdale and Bloxboro respectively. There is no point of even exploring the game because the car dealerships are all broken unless you have the old VIP for the classic games where you could go onto a different job and possibly spawn one. Here is the link: https://www.roblox.com/games/54861396/Ultimate-Driving-II-CLASSIC
Ultimate Driving III Classic (Unfinished Game)
Edit
This game is the original version of Newark, with a small city and some rural areas. The map is the smallest UD game and will not be updated to current standards. Here is the link: https://www.roblox.com/games/54861495/Ultimate-Driving-III-CLASSIC
Ultimate Driving IV Classic (Unfinished Game)
Edit
This game is basically an older version of UD: Cape Ann (now part of UD: Odessa) that was never finished. Here is the link:
https://www.roblox.com/games/54866699/Ultimate-Driving-IV-CLASSIC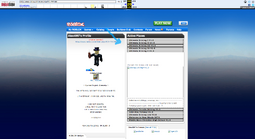 Ultimate Driving V
Edit
This was a planned game that was shelved before the current series was released and the place was later deleted.
Community content is available under
CC-BY-SA
unless otherwise noted.